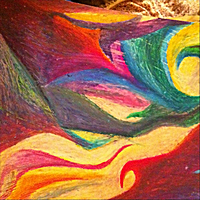 My Chi To Be
© Copyright – Joey Melotti / Dreamspell (885767635821)
This high energy song will lift your Chi, and set you on your path to achieving your ultimate B-All! Inspired by Stacey Hall and the Chi-To-Be masters, it is written to support the universal Chi-To-Be Movement. Original art is by Valerie Melotti.
Genre: Pop: with Live-band Production
Release Date: 2011
Album Notes Composer & Producer Joey Melotti plays all instruments and sings lead vocal on "My Chi-To-Be!". This is a funky driving song with an uplifting Fender Rhodes solo and funky Acoustic Piano solo (a la Herbie Hancock). Vocal features are the rap of Corey Stallings and the sweet harmonies of Sharon Hendrix. This groove guarantees to lift your 'Chi'!
Chi-To-Be, Piano Solo Section
Chi-To-Be, Vocal Section