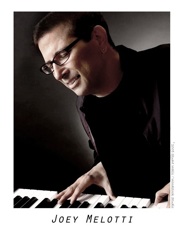 He began touring in 1976 with the late Vickie Sue Robinson, famous for her hit single, "Turn the Beat Around". He produced two of his own albums, "The Joe Melotti Quartet: Live at the Foundry Café" and "Take Another Look".
Joey's musical director credits include Barry Manilow, Eartha Kitt, Michael Bolton, Liza Minnelli and Julio Iglesias, accompanying them on their world tours. He has also been conductor and musical director for David Gest on numerous productions, and has collaborated with outstanding artists like Michael McDonald, Luther Vandross, and Usher, to name but a few.
Additional highlights include serving as arranger, conductor, and co-musical director with Greg Phillinganes for the CBS TV Special, "Michael Jackson: The Solo Years 30th Anniversary Celebration", arranger and keyboardist on Liza Minnelli's CD, "Liza's Back", and keyboards on Barry Manilow's #1 release "The Greatest Songs of the Fifties".
Aside from being a part of the vibrant music scene in Las Vegas, Joey serves as keyboard/vocalist in Barry Manilow's band, enjoying their continuing residency at the Westgate Hotel and Casino. Joey's solo endeavors include his last three CDs "Moving At The Speed Of Love", "Cleansing" and "Celebrate Your Life", and single releases "My Chi-To-Be" and "Old Fashioned Christmas". Visit www.joeymelotti.com to audition his music and find links for purchase.
Having successfully produced the soundtrack for best-selling author Stacey Hall for the audio supplement to her book "Chi-To-Be!" Achieving Your Ultimate B-All, Joey has just finished the theme song for Stacey's new endeavor "Go For YES!"
Joey also lends his efforts and talent to numerous charitable organizations like the Michael Bolton Charities, This Close for Cancer Research, and others. He endorses MOTU DP 10, Quick-Lok Keyboard Stands, and Studio Projects microphones.